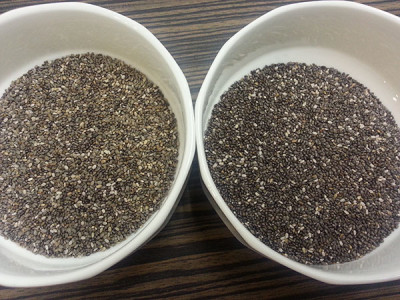 Good, bad chia It is not just any Chia, choose good quality Chia! Chia seeds have grown tremendously popular in Singapore as they are so flexible and boasts many health benefits. And we are not just talking about popularity among vegans, raw or organic foodies, health nuts or marathon runners; even our friendly neighbourhood aunties are into Chia! But are all Chia you see in Singapore equal in quality? Of course not!
Look at the picture below. Which Chia would you choose to put into your mouth?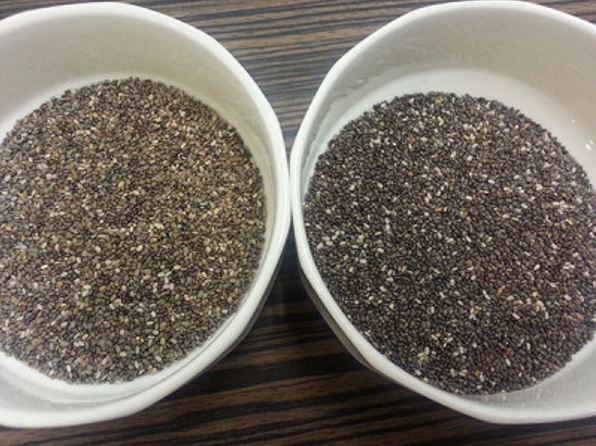 Having imported chia seeds into Singapore since 2010, we have this advice for you – Go for the chia to your right. Why? As Dr Wayne Coates, an expert in the production, evaluation and commercialization of chia, mentioned on his website-"Good chia is only black (dark grey) or white (cream)". So the more black or dark grey seeds you see (if you choose to eat black Chia instead of white), it shows higher quality black chia seeds (in terms of nutrients). The Chia to your left would come across as dull grey seeds with very small percentage of black/dark grey seeds, and hence poorer in quality.
Good fresh Chia seeds, as we noticed through all the shipments we brought in, will also have a slight sheen on them, instead of a dull lacklustre grey colour like the photo to your left.
Another indicator will be the price. As it is said, "Quality comes at a price", as more care is put in by farmers during the farming process, more effort given to pest control, cleaning the seeds several times and for some farmers, a stronger orientation towards consumer satisfaction by applying for organic certifications. In the case of the USDA organic certification, for example, farmers are required to develop a detailed OSP (Organic System Plan) for their operation, outlining cultural practices, crop rotations, soil fertility and pest control strategies, planned input usage, and a record keeping system. These certification requirements will inevitably lead to an increase in labour required to control weeds, to monitor fields on a daily basis, etc.
The final indicator will be the percentage of Omega 3 fatty acids. Recent laboratory tests conducted by Nature's Superfoods on low-quality Chia (with lacklustre grey seeds) in comparison to our good-quality Chia revealed a marked difference in Omega 3 levels; our good quality Chia has Omega 3 levels that are higher by as much as 37%.
So remember, good Chia comes at reasonably good prices, not ridiculously low prices that makes you wonder about its quality! Cheap does not always mean good.
At Nature's Superfoods, our Chia seeds (every batch imported) are tested for microbiological safety (for human consumption) and Omega-3 levels at accredited food testing laboratories. We are extremely conscious about quality and we will continue to bring quality superfoods to you at the best possible prices.