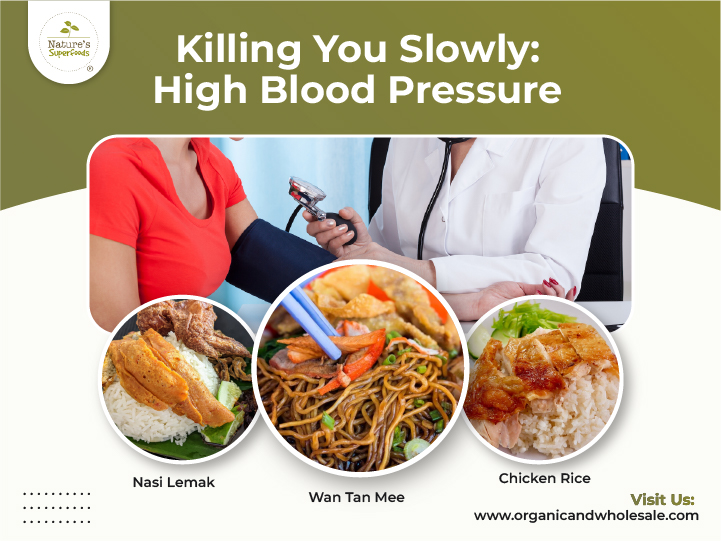 One in three Singaporeans between age 18 to 74 years has hypertension (or persistent high blood pressure), according to the National Population Health Survey in 20201. This represents a sharp increase from the 24.2% in 2017.
When a person's blood pressure is consistently at 140/90mmHg or higher, he/she is said to have high blood pressure. A borderline high is between 130-139/85-89mmHg.
Hypertension is often referred to as "the silent killer" because it may show no obvious symptoms and may strike you with a sudden cardiac arrest or heart attack. Older people are usually at higher risk as the vascular system changes with age. There's a reduction in elastic tissue in their arteries, causing them to become stiffer and less compliant. Having said that, high blood pressure in young adults and even children is not uncommon in Singapore.
The good news is high blood pressure can be managed with dietary and lifestyle changes. It is better to prevent it from young than to treat it later in life by taking blood pressure medication for the rest of your life.
Tips To Manage High Blood Pressure
1. Food Choices
(a) Reduce Fat and Sodium Intake
The average Singaporean consumes as much as 3,600mg of sodium2 daily, which is close to 2 teaspoons of salt (9g salt) . This is almost twice the WHO's daily recommendation of 2,000mg of sodium3 (or less than 5g salt).
If you eat out often, opt for lower-salt and less-oil food options. As much as most of us love hawker fare, many hawker dishes are loaded with sodium. Laksa, for example, contains 7,904mg of sodium in one portion! Choose lower-sodium dishes, for example sliced fish bee hoon, herbal tonic soup, Teochew porridge, Thunder tea rice, economical rice with vegetables and fish (less gravy/sauce). Cut down on gravy- or sauce-based dishes such as lontong, laksa, and deep-fried foods. The gravies and sauces in hawker dishes usually have a lot of hidden sodium (and MSG) in them.
If you prefer to prepare your meals at home, use less salt (or use lower-sodium salt) and less oil. We highly recommend choosing 1 of your daily meals to be low-in-sodium or sodium-free. The easiest way to do this without going crazy over what to eat at each mealtime is to go low-sodium for breakfast time – protein-rich oatmeals, overnight oats with chia seeds and fruit/nut toppings, smoothies with plant protein powders are easy and quick to prepare in the morning. Besides super-charging your body with an abundance of nutrients, these protein-rich breakfasts will make you feel full longer till lunch time while keeping your overall daily sodium intake lower.
(b) Increase Fiber Intake – More Vegetables, Fruits, Nuts/Seeds
Incorporate a variety of colorful fruits, vegetables, high-fiber cereals, nuts/seeds and wholegrains into your daily meals or snacks.
Potassium, magnesium and calcium in the diet have been shown4 to be important for hypertension control. The best sources of these micronutrients come from whole foods, such as fruits and vegetables, rather than supplements. We recommend sweet potatoes, bananas, dried apricots, watermelon, avocado, chia seeds, moringa leaf powder, cacao powder, broccoli, spinach, yoghurt and many more.
(c) Embrace Healthy Cooking Methods
Use non-stick cookware to minimize the need for added oils or fats. Choose grilling, baking, or steaming over frying, and enhance meals with herbs and spices rather than excessive salt.
(d) Limit Highly Processed Foods
Opt for whole foods that are minimally processed. Highly processed foods such as many frozen ready-to-eat foods in supermarkets/convenience stores often contain high amounts of sodium used as preservatives to prolong shelf life.
(e) Learn to Read Food Labels
Pay attention to saturated fat and sodium/salt content on food labels. Choose products with reduced fat, low to zero sodium content, and no added salt whenever possible.
2. Exercise As Lifestyle
A lack of physical activity is linked to high blood pressure. While exercise alone cannot compensate for an unhealthy diet, regular physical activity is vital as it lowers blood pressure by reducing blood vessel stiffness so blood can flow more easily.
However, it is important to note that the benefits of exercise will not be realized if it is not done consistently, as a habit. You can lose gains after stopping exercise for two weeks. The standard recommendation is to have moderate exercise for 150 minutes per week (or aim for minimum 30 min a day) or vigorous exercise for 75 minutes per week.
Enhance the health of your heart, lungs, and circulatory system through activities like brisk walking, biking, swimming, hiking, dancing, and more. Remember to do something you enjoy so that it is easier to make the exercise a lifestyle habit.
3. Lose Extra Pounds
Blood pressure often increases as weight increases. Being overweight can also lead to sleeping issues such as sleep apnea (disrupted breathing during sleep), which further raises blood pressure. Losing weight is one of the most effective lifestyle changes for controlling blood pressure.
4. Get Quality Sleep & Keep Stress Levels Low
Insomnia, sleep apnea, and not getting enough quality sleep can contribute to hypertension. Avoid large meals, drinking lots of water, alcohol, caffeine closer to bedtime. Try deep breathing exercises which have been shown to be beneficial for blood pressure and stress levels5.
5. Quit Smoking
Smoking increases blood pressure: it damages your heart and your blood circulation.
Sources/References:
Singapore Heart Foundation : https://www.myheart.org.sg/health/risk-factors/high-blood-pressure/
Health Promotion Board. (2019). National Population Health Survey (NPHS).
World Health Organization (WHO) A salt intake of less than 5 grams (approximately 2g sodium) per person per day is recommended by WHO for the prevention of cardiovascular diseases, the leading cause of death globally.
NIH National Library of Medicine: Potassium, Magnesium, and Calcium: Their Role in Both the Cause and Treatment of Hypertension
NIH National Library of Medicine : Deep breathing exercise at work: Potential applications and impact.
Conclusion

It is important to get your blood pressure checked regularly as high blood pressure is typically symptomless. Once diagnosed with high blood pressure, this chronic condition will stay for life and can lead to serious health problems and sudden stroke/heart attacks. Having said that, high blood pressure can be managed and kept under control if patients make effective lifestyle changes as mentioned in this blog and take BP-lowering medications as prescribed by their doctors. It is never too late to start managing high blood pressure. Take the first step today to make a lifestyle change that matters to your heart.