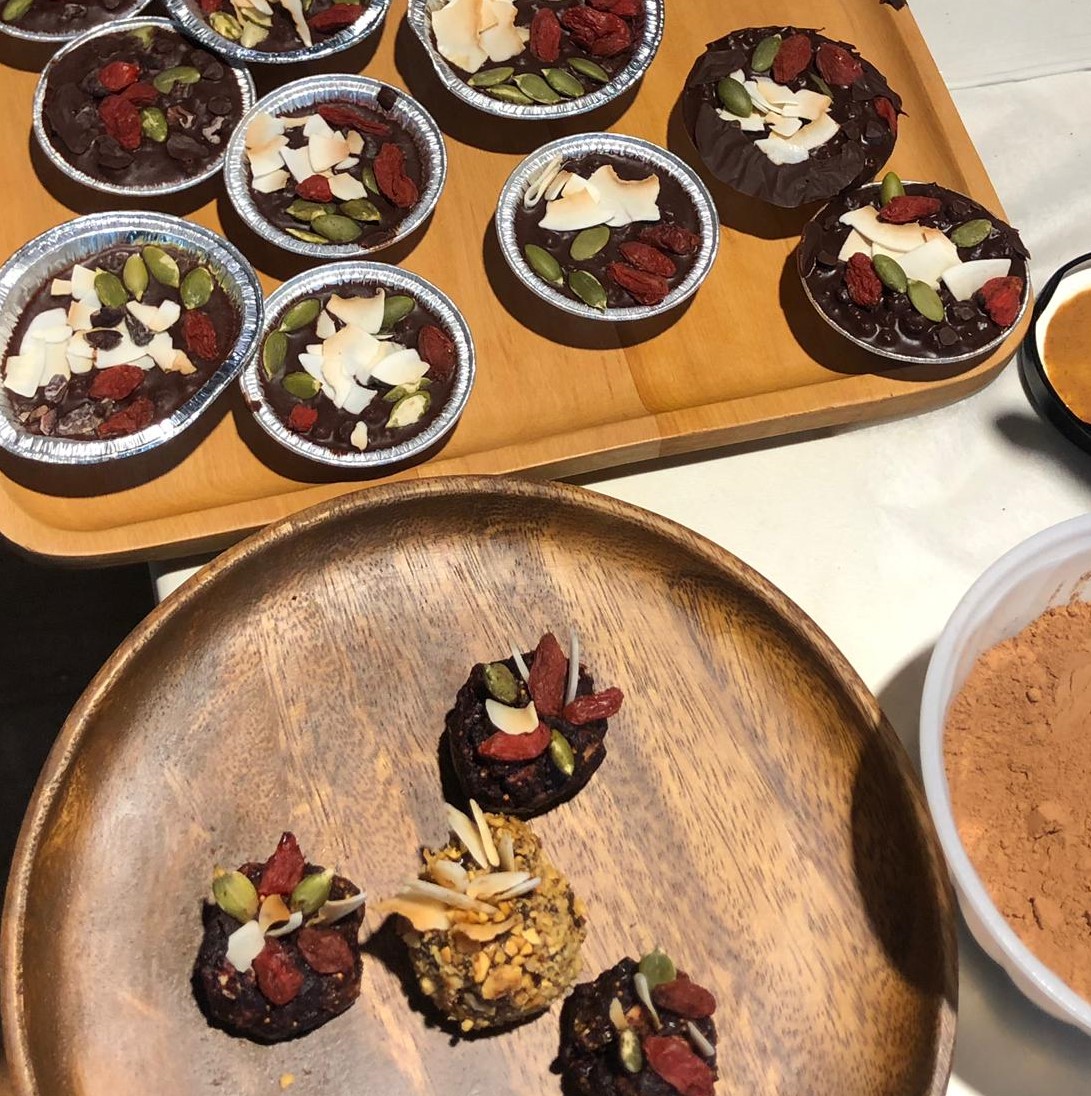 Written and edited by: Nature's Superfoods Team
Christmas is just around the corner! It is time for all the holiday parties and family get-togethers. Personally, I love Christmas time, and I am that person who starts listening to Christmas songs in October while constantly looking for new recipes for healthy Christmas treats to one-up my home-made baked goods.
During this time of the year, we often find ourselves surrounded by relatively unhealthy and sinful Christmas treats, which make stopping at 1-2 cookies seem almost impossible. Desserts are oftentimes frowned upon, and we are often told to eat them in moderation. But we all know this is easier said than done as we easily give in to temptation when faced with these delicious treats.
Instead of putting yourself through the pain of having to control your cravings, why not learn how to make healthier versions of traditional Christmas recipes so that you can enjoy all the treats this holiday – guilt-free! The key is to learn to make smart substitutions with healthy ingredients – an important skill that will make your desserts nutritious, guilt-free, but still taste equally amazing.
No-Bake Christmas Treats Recipes
Everyone loves a quick-and-easy recipe, hence we have come up with two simple and delicious recipes featuring many organic superfoods available in our online food store in Singapore so that you can excite your taste buds this festive season. Get the nutrient fix your body needs in the easiest way as you party away.
These recipes are vegetarian, gluten-free, and free from all refined sugars and preservatives. All the featured superfood products are also organic!
1. Dark Chocolate Goji Bites
(No Heat Required l Free from Gluten, Refined Sugar, Dairy, Soy, Additives l Diabetic-Friendly)
When we think of Christmas, we can't help but think of chocolate! However, if you look at the ingredient lists of commercially available chocolates, most of them are sugar-laden, with the first ingredient on the list being SUGAR! Believe it or not, cacao is not even the first ingredient in these chocolates. This means that there is more refined sugar than cacao present in these chocolates – definitely not healthy!
In this recipe we have created, we use Nature's Superfoods Organic Raw Cacao Powder, with no refined sugar added. Do note that organic raw cacao powder is different from processed cocoa powder, which has undergone high heat treatments leading to lesser amounts of antioxidants. It has over 40 times the antioxidants of blueberries and is the highest plant-based source of iron and magnesium. Containing high amounts of Anandamide, a bliss molecule, cacao can greatly enhance your mood, reduce stress, and increase serotonin levels to make you feel happier. We also use low-GI unrefined Organic coconut sugar, in place of refined sugar that can easily spike blood sugar levels. This recipe also features various Nature's Superfoods products like organic quinoa puffs, organic coconut flakes, organic goji berries, and virgin coconut oil.
Get the recipe here: https://organicandwholesale.com/christmas-dark-chocolate-goji-bark.html
2. Spiced Fruit Pudding Bites
(No Heat Required l Free from Gluten, Refined Sugar, Dairy, Soy, Additives l Diabetic-Friendly)
As attractive as they look, it is best to avoid store-bought puddings that are loaded with sugar – be sure to check the ingredient lists for this information. Even those made using dried fruits such as prunes are processed with refined sugars. So be sure to avoid those too!
Our Christmas pudding bites recipe features Nature's Superfoods' dried fruits such as Organic golden Incan berries, Organic figs and Organic apricots which are naturally sweet and do not contain any refined sugars. Dried apricots, for example, are rich in Vitamin A, C & E and low in calories. It is also rich in polyphenolic antioxidants that have been shown to protect against diabetes and heart disease. Apricots are also known to promote gut health with its high amounts of fiber. Hence, you can enjoy these Christmas pudding bites without having to worry about the type or amount of sugar present in them. This recipe also features Nature's Superfood's Organic Ceylon cinnamon powder, Organic maqui berry powder, Organic acai berry powder and Organic sacha inchi seeds, all of which are easily accessible in organic food stores in Singapore.
Get the recipe here: https://organicandwholesale.com/spiced-fruit-pudding-bites.html
Whip Up Healthy Christmas Treats with Nature's SuperFoods
From organic coconut oil to acai powder, the above recipes are not only healthy and filled with beneficial nutrients, but they are also super-easy and quick to make. Perfect for those who are health- or weight-conscious, these healthy treats can be enjoyed in place of your breakfast cereals or gifted to friends and families for any occasion. So why not recreate these recipes at home and spread some holiday cheer?
Looking for recipes that allows you to experiment with other superfoods? Browse our online recipe repository!