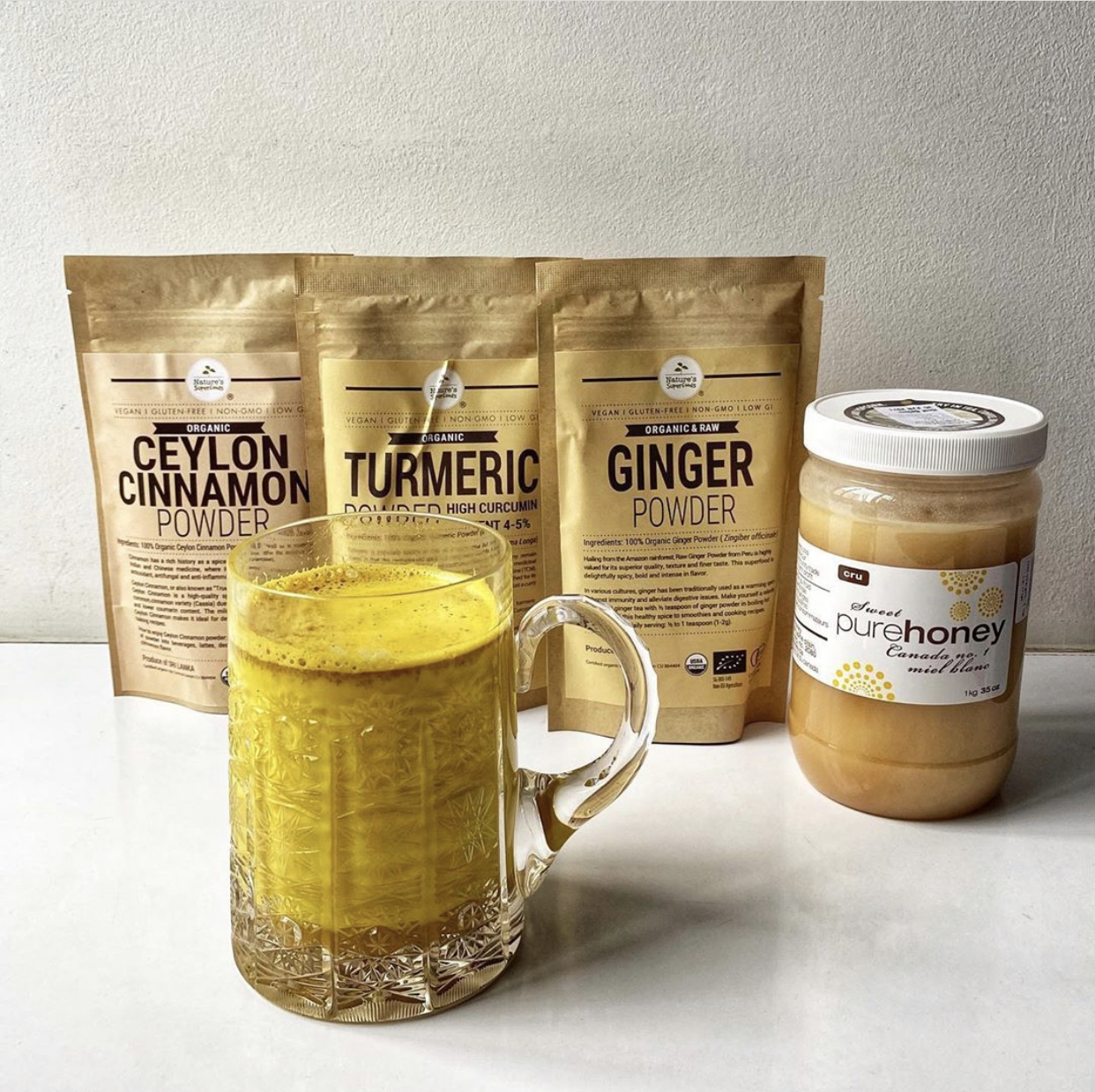 For centuries, spices have been known to have to have nutritional and medicinal benefits as it has been used in Indian Traditional Ayurvedic Medicine and Traditional Chinese Medicine. Today, spices play an important role in the foods we cook and consume.
Heard of the phrase sugar, spice, and everything nice? That phrase perfectly describes the Golden Milk recipe (except we use raw honey instead of refined sugar, of course!). The Golden milk drink is a perfect way to incorporate spice into your diet without having to prepare or do much cooking. Apart from it tasting amazing, it is a great recipe for adults and children who lead a busy lifestyle.
History of Golden Milk
Although Golden Milk appears to be a new and trendy drink invented in the west, it has been widely used in India as part of tradition for thousands of years. In Indian Ayurvedic Medicine, Golden milk is a nutritional tonic, consumed for its many health benefits. Today, apart from being aesthetically perfect for pictures, this drink lives up to the hype for its many nutritional benefits.
The Golden Milk recipe comprises of three common spices, Turmeric, ginger and cinnamon. The name is derived from the bright golden-yellow colour of the drink.
Organic Turmeric powder
Turmeric, the key ingredient in Golden milk has been used in natural medicine for 4000 years. The active ingredient curcumin, which is a primary curcuminoid is the reason why Turmeric is a great natural product with anti-inflammatory benefits that ease arthritis pain. Curcumin is also a strong antioxidant that neutralizes free radicals and stimulates the body's own antioxidant mechanisms. Nature's Superfoods Organic Turmeric powder is a great option as it is naturally higher in curcumin content (minimum 4-6%) as compared to other Turmeric powders (2-3%). To increase the bioavailability (absorption) of curcumin in the body, it is important to consume Turmeric powder with a small amount of black pepper and healthy fats such as milk. Hence, our Golden milk recipe contains both pepper and milk to ensure maximum absorption.
Organic Ceylon Cinnamon powder
Cinnamon is known for its antimicrobial, antioxidant, antifungal, and anti-inflammatory benefits. Nature's Superfoods Organic Ceylon Cinnamon Powder is also known as "True Cinnamon" as it is native to Sri Lanka and differs from the more common cinnamon variety known as Cassia due to its rarity, delicately sweet flavor and lower coumarin content. Ceylon cinnamon has been known to be anti-diabetic, with effects in controlling elevated blood glucose levels.
Organic Ginger powder
Ginger is an antioxidant and anti-inflammatory benefits. In many cultures, ginger has been used traditionally as an immune booster to prevent and treat the common cold as well as function as a digestive aid to ease gastrointestinal issues such as bloating, nausea and constipation.
The great thing about Golden milk is that it does not contain caffeine. Thus, you can have it anytime of the day. Also, there is no fixed method to make Golden milk. The recipe is flexible and the amount of spice used can be altered based on preference. So, you can play around with the spices and if you love the taste of a specific spice you can most definitely add more to your drink. Our suggested intake for nutritional benefits is ½ to 1 teaspoon daily.