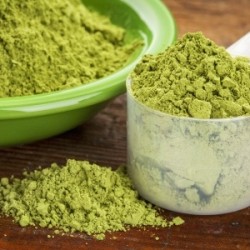 Not many superfoods can claim to be a natural source of multivitamin complex all on its own. And this is not just a few vitamins or antioxidants, but a wide variety of them!
Moringa Oleifera is a rare superfood that can actually live up to the 'multivitamin' name with more than 90 nutrients and 46 types of antioxidants.
Fundamentally, healthy skin and hair requires a wide variety of nutrients from whole foods, along with the adoption of a healthy lifestyle – exercise regularly, have sufficient rest and avoid too much stress, unhealthy or nutrient-deficient diets, etc.
A fantastic source of a large variety of whole-food nutrients would be Moringa leaf powder. Moringa leaves have all the vital nutrients for healthy skin and hair – Vitamin A, C, vitamin B complex (including B7- biotin), Protein (all essential amino acids), Iron, Zinc, Calcium, Copper, Potassium, Magnesium, Manganese, Silica, Omega 3 and 6.
For healthy hair growth: The high content of vitamin A, zinc, vitamin E, B vitamins (including biotin), essential amino acids and silica in Moringa leaves help to stimulate natural hair growth, and promote the production of keratin.
For healthy skin: The high level of Vitamin A improves the rate of skin turnover, zinc aids in wound healing, and vitamin C promotes collagen growth. In addition, biotin improves skin moisture, and Omega 3 fatty acids reduce inflammation.
Moringa leaves also contain sulfur-based MSM (methylsulfonylmethane) and the sulfur-bearing methionine and cysteine amino acids, and they support softer skin, thicker hair, stronger nails, as well as the healthy formation of collagen.
With daily Moringa consumption, along with regular exercise, adequate hydration and a balanced diet that minimizes refined sugar, processed foods, food additives, and preservatives, etc., you should find yourself on a journey towards better health, and noticeably healthier skin and hair!
Try Moringa today!